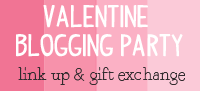 i loved loved loved the
fall swap
i did. i not only got an awesome package in the mail, but i met some new blog friends. i just noticed
alycia
and a few other bloggers are hosting a valentine's themed blogger party. i am so excited! everyone should do it. i can't wait to do a little valentine's day shopping and meet some new bloggy friends.
Any blogger who wants to participate will e-mail Nicole their name and blog address.
Each blogger will be randomly paired up with another blogger, and will receive that blogger's e-mail and web address.

It is then up to those bloggers to give each other their shipping address, so they can send each other a little care package! (try and get to know your new blogging friends!)

Make sure to ship out your care packages by an appropriate date, so that the other person will get their packageBEFORE February 7, 2013.
Then make sure to write up a post about the person you met, and what they sent you! &Don't forget to link it up to ALL FIVE of the blog Hosts, to spread the love and meet tons of new bloggers!
Hope we can all meet some new people in the blog world, spread smiles with some gift giving, and spread some blogging love for 2013!
**Must be at least 18 to participate, thank you for understanding**