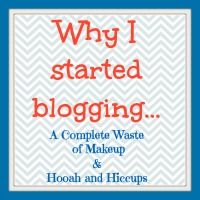 there's been a lot of talk in blog land lately about why people blog and/or why people started blogging. for me, those are 2 very different questions and 2 very different answers. i'm linking up with
neely
and
samantha
to discuss why i started blogging and a little of why i blog now.
it seems like a lot of people are newer to the blogging scene. i started blogging clear back in 2008. you can see my first post
here
. i live far away from all family and some friends. back in the day lots of my friends and family blogged. i loved keeping up with what everyone else was doing through their blogs so
FINALLY
one day i decided to start a blog. many of my good friends
got married
, and we thought it would be a great way to keep track of each other.
that's basically how blogging went for the first couple of years. i thought it was a little weird to read blogs of people i didn't know so i didn't do it. i only read friends and family. from the start i really loved blogging and blogged at least a couple of times a month at least. gradually a lot of my friends stopped blogging. it got to the point that i really didn't have many blogs to read. i didn't want to give up blogging just because my friends did. i actually first started reading "random" blogs when i was training for the
new york marathon
. i got connected with a nyc blogger who was also running the marathon. from there i really gave in and started reading more and more "random" blogs. it's funny to me how well you can get to know someone you don't know in real life through reading their blog.
even though a lot of friends and family have jumped off the blogging bandwagon, i am here to stay. i blog now for a few reasons.
1. i still want friends and family to know what i'm doing
2. i still want to document my life (especially since i no longer scrapbook)
3. i love love love the connections i have made and continue to make through blogging.
i was always a little jealous of people who have blog friends, but once i realized most bloggers are super nice and love the connection part of blogging as much as i do, making blog friends seems natural. i love love love all my blog friends and always look forward to making more.
what about you? why did you start blogging?

ps there are some great blogging resources out there to help you get started and keep going