with all the 30x30 posts this month, i haven't done a wear it wednesday for a while. since i've been taking and posting pictures of my blue outfits i haven't had any new outfits or pictures to post...until now. i LOVE accessories. they totally make the outfit. when i take pictures with bonnie, she is really good at making sure to get a few of the accessories too.
i obviously love scarves and bracelets and watches, but really i love it all. most of the time i buy disposable jewelry meaning it's a pretty inexpensive. i wear it until it isn't nice anymore, and then i get rid of it. i like to have trendy and current pieces without paying high prices. sometimes it is worth it to invest a little more money for nicer things that will last a little longer such as a watch, basic classy earrings, bridal sets, and other classic pieces.
speaking of bridal sets, people think i'm crazy, but i don't necessarily want a real diamond. i don't want a completely disposable ring, but i'm pretty sure i'll want something new later on down the road. it seems like it might be a little easier to convince justify a new ring if it isn't real. lately i've really been loving bands rather than a solitaire. anjolee.com has a great selection of beautiful fully customizable bands and other jewels...not that i need it anytime soon.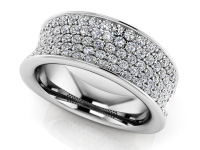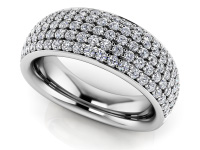 do you love accessories as much as i do? do you think i'm crazy for wanting a fake ring?

***this post was sponsored by anjolee. all opinions are my own.