first things first...
kimberly
and i are trading vacation weeks in california. therefore blogging the bach has moved to wednesdays for at least the next few weeks. so, since it's wednesday,
kimberly
and i bring you blogging the back 9.6...
holy moly there is more than a novel's worth of stuff to talk about this week...
i've been waiting all season to see more of drew. he was my #1 pick right from the get. we haven't even seen enough of him for me to know if i still like him. this date was just a little cliche for me...
finally, perfect, sob stories, escaping to make out against the wall, emotional
do you really need to steal her away? you're already on a 1-on-1.
"one more thing I have to say"...this usually never works, but des actually wanted to hear what he had to say. it definitely completely and totally killed the mood, but he already had the rose so whatevs
group date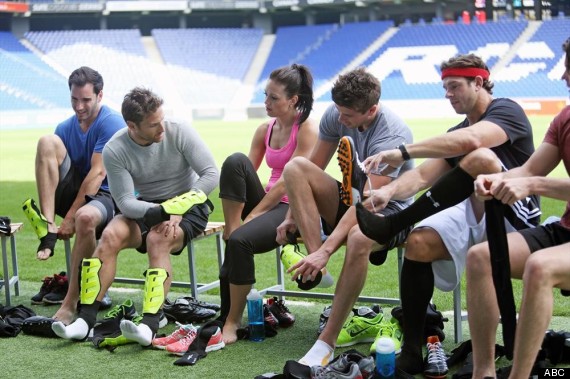 am i the only one that just learned juan pablo has a kid?
my favorite look for des is her workout attire. she always looks good in gym clothes. weird right?!?
i would be pretty mad at juan pablo for totally having an advantage, but A. the guys were too worried about james to care and B. it didn't help them to have a pro on their team.
james the goalie...i feel ya dude. i played soccer when i was prob about 5. i picked flowers the whole time. it's not a sport for everyone. (as a side note i really wish i would have stuck with the soccer a little longer. i would prob really like it now, but i'm WAY too old to start now)
onto the night
kasey...i kinda miss the hashtags from week 1...sweater #fashionfail
chris...des really really really likes chris like maybe more than anyone else. he's def in the final 2 if not the 1.
brooks...steering pretty clear of the drama...good idea
james...where to even start??? how much has he had to drink? there's a heckuva lotta yelling and swearing and sweating and TENSION! he seems full of crap, and i'm glad after attempting multiple times, des finally gave him the boot.
i don't have too much to say about zak except i'm surprised he's still around. their date was full of kissing sounds (one of my biggest pet peeves) and love talk.
apparently the uniform this season is a neutral v neck with a matchy matchy hoodie
i'm a little afraid i messed up my word tally this week. what do you think? i count the word or any variation of the word
amazing...4 (did we really only hear this 4x?)
journey...1
fairytale...0 (not much about this epi was a fairytale)
connection...12 (i saw minimal connection so i can't believe that word was said so.many.times)
lucky...0 (no luck this week)
right reasons...0 (although we never heard this phrase, there was a heckuva lot of allusion to it)
chemistry...1 (did i miss 1 or 2 of these?)
romance/romantic...4 (again, not a ton of romance this week)
after watching for about .5 seconds i added a couple more words
tension...5 (enough with that biz)
love...20 (not even kidding although it wasn't always i'm in love with des but more i love this or i love that)
was anyone else surprised 3 people were going home? this season is starting to wrap up.
the previews look pretty killer, but i'm sure they are also misleading. i can't wait to see what happens. in the meantime go see what
kimberly
has to say about one of the most dramatic season of the bach
in case you missed blogging the bach
week 1
week 2
week 3
week 4
week 5